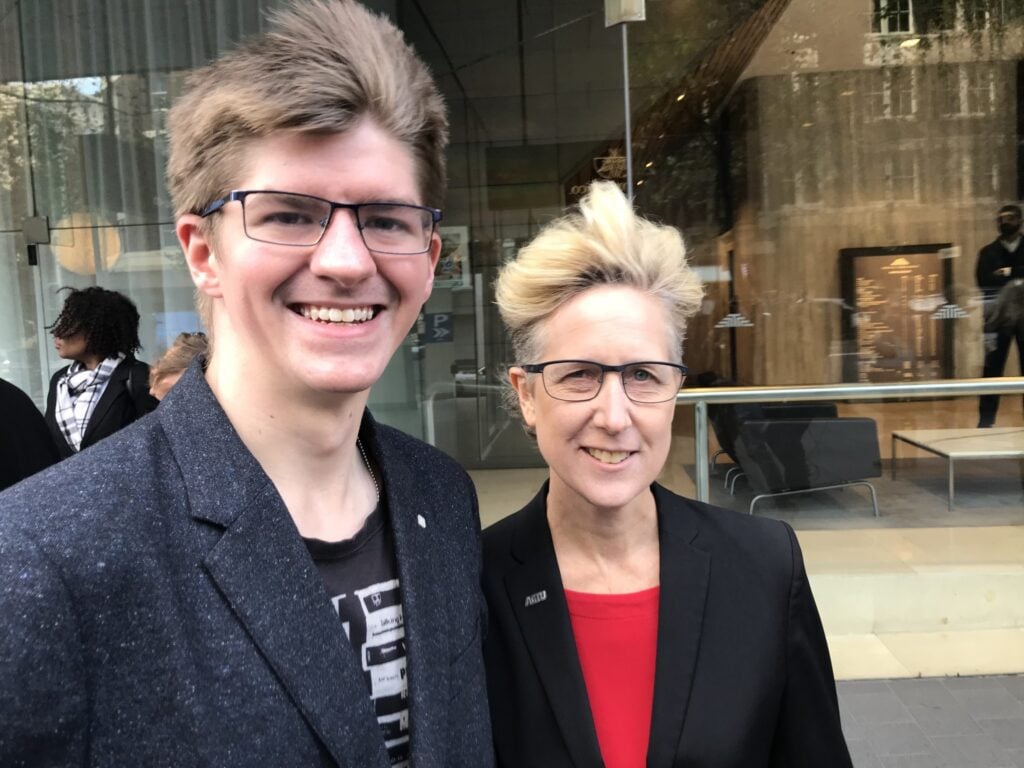 Union members have won a $2500 per year pay boost for close to three million workers on modern awards and an even larger increase to the national minimum wage. With the price of essentials continuing to rise sharply, this is an important win in our battle to ensure workers can keep our heads above water.
Today, the Fair Work Commission awarded an increase of 5.75% workers for modern awards. For the average award worker the increase will represent about an extra $50 per in your weekly wages. The increase comes after thousands of United Workers Union members took action over the last few months to fight for better pay via our Low Pay No Way campaign.
The new rates were announced by the Fair Work Commission after they completed their annual wage review. The rates begin in July, and are effective from the first full pay period commencing on or after 1 July 2023. Workers on the national minimum wage will see their wages increase by 8.6% to $882.80 per week or $23.23 per hour.
This decision will be welcome relief to countless UWU members in Award-reliant industries like aged care, cleaning, disability support, early education, hospitality and security. It will also affect countless other members on enterprise agreements whose wage increases are linked to Award wages.
During the Award wage review process the Fair Work Commission received evidence from UWU members about the devastating impact of rising costs on workers and why we called for Award wages to increase significantly.
The Fair Work Commission heard from range of different groups including unions, employers and state and Federal governments also made submissions and agreed with unions that workers needed a substantial wage increase.
This decision is a major rebuke to employer groups trying to protect their record profits and who demanded workers receive an increase of just 3.5%. That would have meant a cut to workers' wages of $1500 per year in real terms.
In its decision, the Fair Work Commission agreed with UWU members that a major increase was necessary to help workers keep up with the rising cost of living. This year's increase is 1.35% higher than last year's increase 4.6% and is the largest increase ever awarded.
UWU members should feel incredibly proud of the critical role we played helping win this wage increase. It is an important reminder that workers are so much stronger when we stand together in our union.
If you're not a union member yet, now is a great time to join.
Since March UWU members have taken part in close to 10,000 separate actions. This has included speaking out online and in the media, giving evidence to the Fair Work Commission via UWU's submission, as well as signing our petition to Prime Minister Anthony Albanese calling on his government to back our claim for better pay.
We also put a big spotlight on myths and misinformation churned out by employer lobbyists who are determined to avoid paying working people decent wages for our hard work.
Grab our Expert Guide To Award Wages. FREE to UWU members!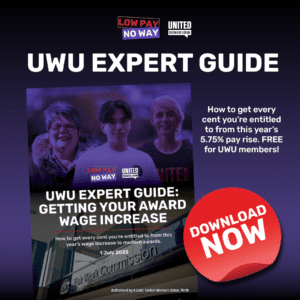 Our expert guide for UWU members on how to get your 2023 modern award wage increase is here and ready to download. It's FREE for UWU members. Find out:
Important info about the 2023 award pay rise.

Does is it apply to you?

Your award wage checklist.
Wage theft alert: tips on how to find out if you're being underpaid & win back stolen wages.

Explainer: modern awards vs enterprise agreements.

More handy tips and expert union advice.